Faith Formation: Children, Ages: 4 - 12
The children meet every Wednesday evening at St. Mary's Center from 6 - 7:30 pm to learn their Catholic faith. They will grow in love and appreciation of the Gospel of Jesus Christ, His Church, the Seven Sacraments and the traditions of our faith.
Thank you for your participation and for your support of our efforts with the children. As a parish we all share in the responsibility to pray for and support our children in their faith journey.
Bus transportation from Croswell, and Lexington to Port Sanilac will be provided every week by Sanilac Transportation Company.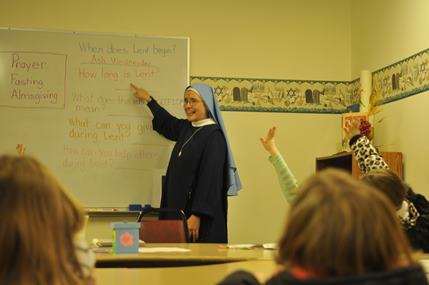 ---
FAITH FORMATION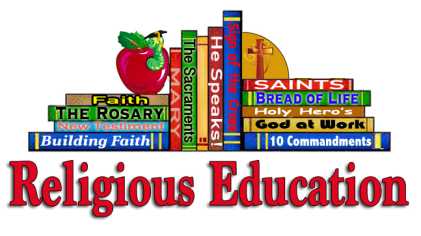 ---
St. Joseph, a Grateful Heart
It is hard to believe that the beautiful season of Advent is already here! This holy season encourages us to seek something deeper than the tinsel and glitter of decorations, gifts, and Christmas parties. This year the Church gives us in St. Joseph, the perfect role model in preparing for Christ's birth. As you know, Pope Francis proclaimed on De- cember 8th, 2020, a "Year of St. Joseph" dedicated to the Chaste Spouse of the Blessed Virgin and Foster Father of Jesus. To highlight the importance of St. Joseph during Advent, each Faith-Formation stu- dent will receive with their personal Advent Calendar, a small statue and holy card of St. Joseph. This beloved, tender and obedient Father teaches us to prepare for Jesus with grateful hearts in small hidden ways. I re- cently read a beautiful article on gratitude in which the authoer gave some simple ways to incorporate a grateful spirit. Maybe you, too, will find these small acts to be a helpful means of entering deeper into this season of preparation. May St. Joseph inspire you to increase that immeasurable gift of gratitude in your life.
Count Your Blessings: list 5 things for which you are grateful • Three Good Things: Recall 3 things that went well today. • Mental Subtraction: Imagine your life without someone • Gratitude letter: Write a letter of grati- tude to someone you never properly thanked